Meet the team that works behind the scenes to bring you the latest investment research.
Research Analyst, Steve Fernandez
Steve assists in the research for all of Ian King's premium research investment services.
He received his master's degree in Data Science from Loyola University.
After college, he worked at Charles Schwab and then later T3 Trading Company. He then joined Banyan Hill Publishing in 2019.
As a trader and data scientist, Steve brings a unique system-based approach to his research for Ian's services.
You can also read his insights on the market in his Winning Investor Daily e-letters.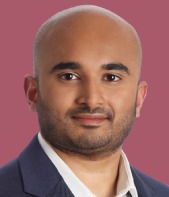 Research Analyst, Andrew Prince
Andrew Prince is one of the research analysts for Strategic Fortunes, Next Wave Fortunes and New Era Fortunes.
He started his investing journey at 2014. He then graduated with two master's degrees from Southern New Hampshire University. He is now working toward passing the Chartered Financial Analyst exams.
Andrew joined Banyan Hill in 2021, you can catch up on his latest research articles with Winning Investor Daily.
Senior Managing Editor, Tiffany D'Abate
Tiffany oversees the editorial content for Ian's research investment services as well as Smart Profits Daily.
She started her editorial career in 2011 and then joined Banyan Hill in 2014.
Before that, she received her bachelor's and master's in English from the University of Tennessee, emphasizing in nonfiction writing and journalism.
Managing Editor, Hillary Hayes
Hillary manages all the editorial content for Strategic Fortunes, Next Wave Crypto Fortunes and New Era Fortunes.
Hillary was born and raised in South Florida and got her bachelor's in English at Florida Atlantic University. After college, she started her career in content writing and SEO content managing in 2014.
She started at Banyan Hill in 2017 as a Proofreader and has been with all of Ian's services since the beginning.
I've found that a lot of retail investors use the same option strategies. Many of them buy calls or puts. Some might sell covered puts. But the way I look at the options market is: Where's the individual retail investor's edge? So, I set out to create an option...