You know that phrase, "The rich get richer"?
It used to be my job to make sure that happened.
See, I used to be a Wall Street trader and hedge fund manager.
I started my career on Wall Street while I was in college. I spent a summer interning for Merrill Lynch in the middle of the '90s bull market.
I was fascinated with trading. As a result, after college, I joined Salomon Brothers in the infamous mortgage bond trading department.
Later, I spent time at Citigroup working with credit derivatives … and then a decade as the head trader at Peahi Capital, a New York-based hedge fund. My team at Peahi made a 339% total return in 2008 alone.
It was during those periods that I realized how much I enjoy helping investors make tens of millions of dollars — sometimes on single trades.
I spent over two decades developing a process for successful trading systems. It's why I got into the market myself instead of simply reading about it.
I also got to share my exclusive market insights on Fox Business News, Investopedia and Seeking Alpha.
But remember, my job was essentially to hand the already wealthy even more money — money that I realized struggling Main Street Americans needed more.
Eventually, I had to walk away from the excesses of Wall Street. I was sick of making rich people even richer. That led me to Banyan Hill Publishing.
In 2017, I joined Banyan Hill to help readers get ahead of the burgeoning crypto market.
My flagship service, Next Wave Crypto Fortunes, pinpoints winning crypto trends with a unique three-part trading strategy.
But I don't just work with cryptos…
My newsletter, Strategic Fortunes, uses my personal four-step strategy to find overlooked stocks in breakout trends that are set to soar and disrupt entire industries. You can read Strategic Fortunes reviews by real subscribers here. 
And my Extreme Fortunes service focuses exclusively on innovative small-cap stocks in disruptive trends that have the potential to rocket up 10X in as little as a year.
I'm excited to bring these strategies to everyday investors — letting Banyan Hill's readers in on the massive gains available in the market.
To learn more about my work with Banyan Hill, click here.
Get FREE Daily Insights From Banyan Hill
Join Winning Investor Daily and get emails from Ian and the entire team at Banyan Hill and stay up to date with everything related to the markets!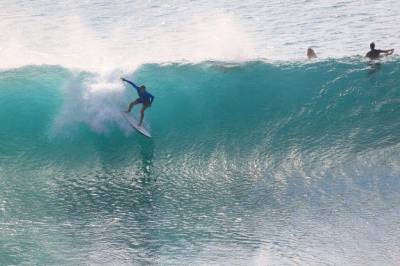 As odd as it might sound, my investing success stems from my summers surfing on the Jersey Shore.
Surfing, in some ways, is like investing. Markets and waves are both unpredictable, dynamic environments that never repeat.
You'll never catch the same wave twice — or experience the same market twice. However, you'll face similar conditions again and again.
Both are art forms where you can continually improve your process and get better over time.
Experienced surfers can read the wave and shift their weight accordingly. They know when to slow down and speed up, when to tuck into a tubular section or when to bail out.
The same goes for trading. Experienced investors know when to buy and sell, when to trim positions and when to add more.
And with practice and research, I'm able to pinpoint stocks with the best entry and exit points for the biggest gains…
The "green room" is coming. In surfing, the green room is the inside of a barrel that is produced by a wave. (The term was coined from the color of light reflected in the barrel.) It's that sweet spot where all surfers strive to be — to ride that wave all the way in....
read more